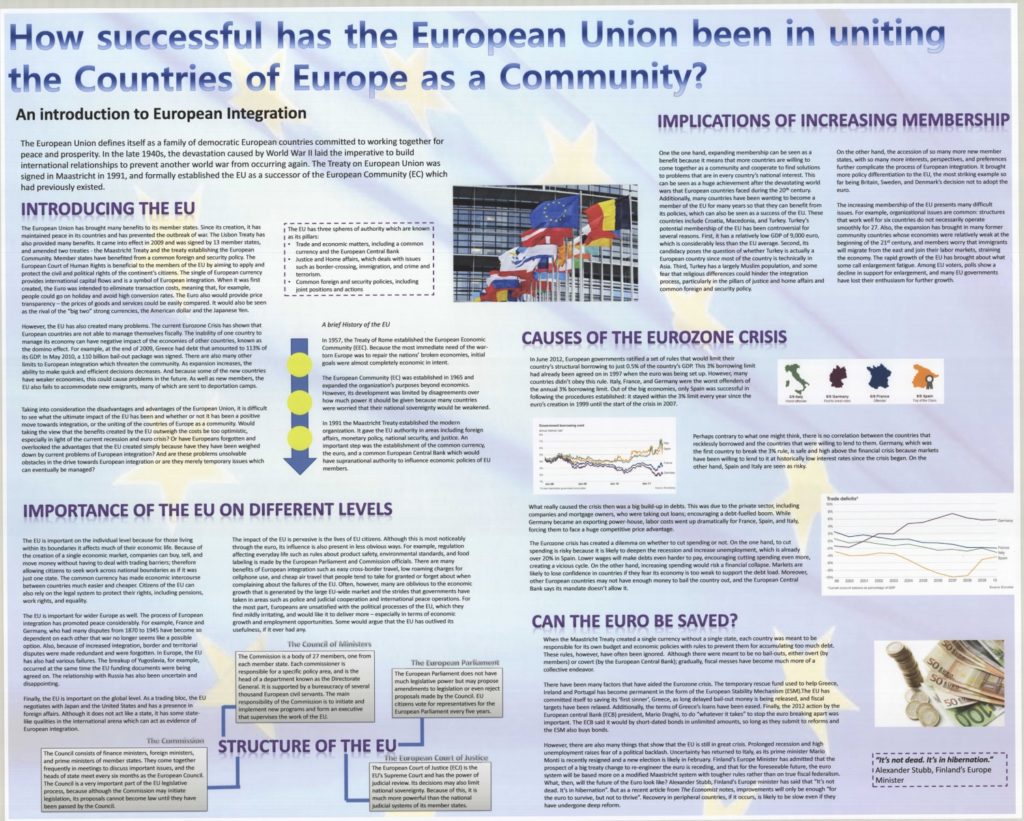 As one of the most prominent Intergovernmental Organizations in the world, the European Union is often seen as a sign of European integration and an expression of community within Europe. For this 'Europe in the World' entry, I chose to explore this sense of community that the EU creates within its member states – both symbolically and practically in the international arena – and how effective it is in integrating countries as a community. When first reading about the EU, it is common to learn about how successful it is has been in integrating and bringing peace into a continent that experienced notoriously bloody world wars during the 19th century. It would seem that, with all the programs it has created, with a structure that allows countries to discuss and negotiate issues on an international platform, and the mutually agreed upon decisions that can be made from which the majority of countries benefit from; the EU surely carries out its purpose. However, in the news, acknowledgements for the accomplishments of the EU are either very rare or non-existent. In fact, in recent months, citizens only hear and complain about the economic crises that have arisen due to the instability of the Euro, as well as political instabilities within other structures of the EU. Is the idea that the EU has created European integration only an illusion? Has the EU ultimately failed in bringing together the countries of Europe as a community, or are these issues only temporary problems that can eventually be solved? In my project, I explore the effectiveness of the EU in its first and original purpose, integrating the European community. Several political and economic features of the EU are explored, such as increasing membership and the importance of the EU on regional and global levels, to examine the benefits and problems of each and how they can be either seen as helping or hindering the development of the European community.
Bibliography
Introducing the EU
The Importance of the EU on different levels
Dinan, Desmond. Ever Closer Union. Colorado: Lynne Rienner Publishers, 2010. Print.
Structure of the EU
Wood, Ethel. AP Comparative Government and Politics: A Study Guide. Reading: WoodYard Publications, 2009. Print.
Implications of Increasing Membership
Gilbert, Mark. European Integration. Plymouth: Rowman & Littlefield Publishers, 2012. Print.
Causes of the Eurozone Crisis