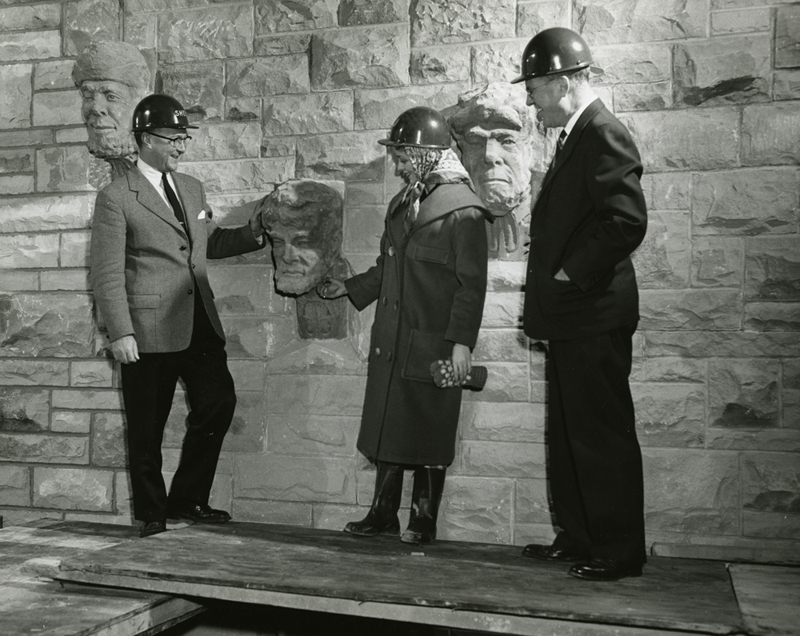 Boardman Hall stood in the middle of the south side of the Arts Quad for 66 years before it was torn down in 1959. Designed by William Henry Miller, who also designed Stimson Hall to the east and the Main Library building (now Uris Library) to the west, Boardman was much loved for its rough-cut stone exterior and the carved heads set at intervals under its eaves. Honoring Boardman's place in Cornell's history, architects for Olin Library incorporated stone and eight sculptures of heads salvaged from the demolished building into first-floor walls and retaining walls around the perimeter of the building.
The heads have been the object of much speculation over the years. No one knows now, and no record has yet been found that reveals who they immortalize in stone. All we know is that itinerant stone masons carved the heads in 1892. The three heads in the stairwell beside the café are often seen by students, as are three on an exterior wall, facing the Arts Quad. The two inward-facing heads on an exterior retaining wall are less visible and often a surprise even to people who walk by Olin every day.
Read Gary G. Caplan, "Olin: Unity, Union, Gargoyles" Cornell Daily Sun Feb. 10, 1961.