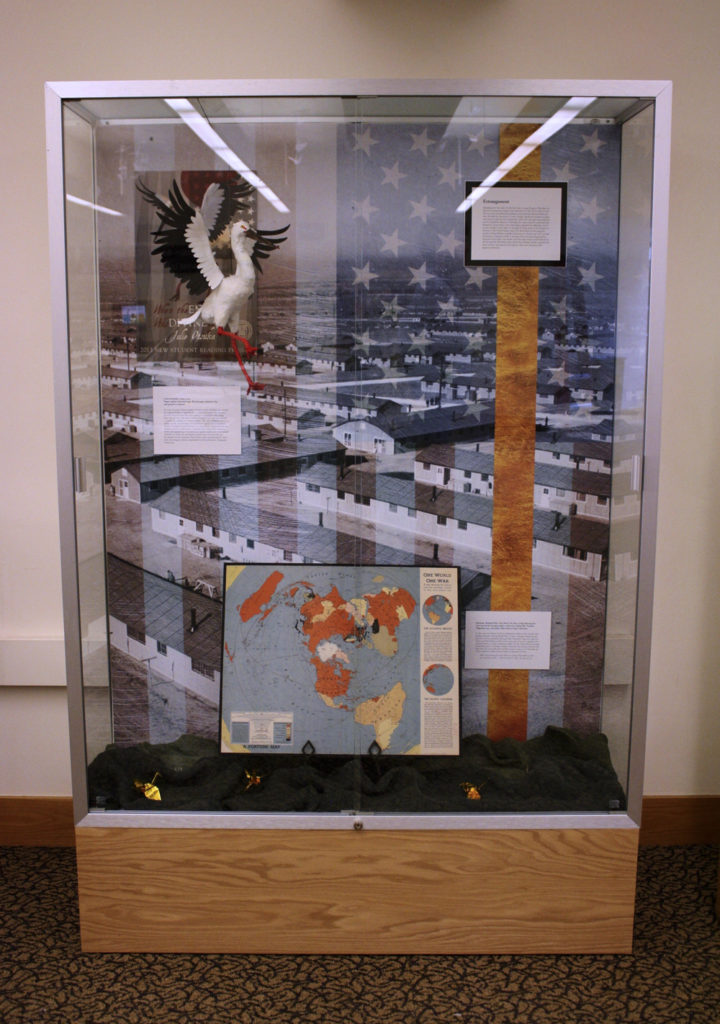 Speaking over the radio for the first time in 1945, Emperor Hirohito delivered a momentous speech now referred to as "the Voice of the Crane." He not only surrendered, he publicly renounced his divinity. Both acts were dictated by Americans. It was a deeply significant moment in Japanese history, and one that marked the end of the war and eventually, the end of its painful ruptures. Culturally, the crane stood for authority; the Emperor's renunciation of an ideal Japan signaled the definitive end of an era. Otsuka's novel takes us through the final phase of the Emperor's divinity in the United States, where the devastation of the Japanese attack on Pearl Harbor impelled Americans to declare war and "exclude" Americans of Japanese birth or ancestry from the general population. Separated from their own leader and from their home and livelihood by the FBI and the War Relocation Authority, Otsuka's family negotiate the terms of their internment and examine their own American and Japanese identities.
Carla DeMello. Crane, 2013. Papier mâché, electrical tape, Bristol paper, polymer clay, and gouache sculpture
For over ten years, library graphic designer Carla DeMello has created an original design to represent the Cornell University New Student Reading Project book. Her goal is always to highlight a key image from the text that will entice readers to explore the book and consider a central, but perhaps not obvious, theme. This year, DeMello based her design on the crane because of its profound significance in Japanese culture. A symbol of good fortune, it is also closely connected with the Emperor and his relationship to divinity. She created this sculpture before photographing it and placing it against muted, but unmistakable emblems of American and Japanese patriotism. In particular, she has grayed out the American flag's brash colors, questioning the hard lines and arrogant policies responsible for the internment of Japanese Americans.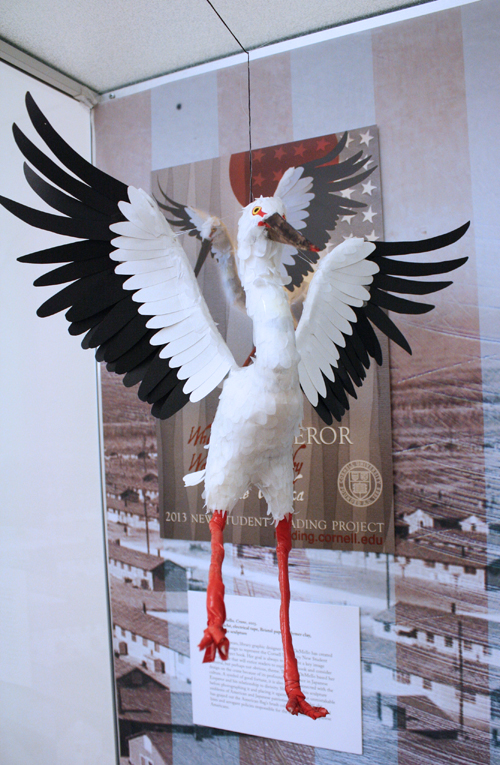 Harrison,Richard Edes. One World, One War: A Map Showing the Line-up and the Strategic Stakes in This First Global War. Fortune Magazine, 1942. Olin Library Map Collection.
In this map, the editors of Fortune Magazineanalyzed the strategic geo-political situation during World War II, from a strongly American perspective. Fortune published Richard Edes Harrison's map soon after the attack on Pearl Harbor in December 1941, and it became a popular educational feature in many American homes. As she closes down her house in Berkeley prior to leaving, Otsuka's character, the woman, removes this map from her son's wall and carefully packs it away. (p. 7). Later, this patriotic interest in allied fortunes loses its relevance for her.
Who was winning the war? Who was losing? His mother no longer wanted to know… "Tell me when it's over," she said. (p. 93)