Origami paper folding is an old art, used in Japanese culture for ceremony, recreation and education. The practice requires care, precision and attention to detailed directions; it teaches and rewards persistence.  The folded paper result can be beautiful and is ephemeral.
Teachers and parents teach origami to very young children, and also use origami to help children learn. For example, an ephemeral paper wristwatch might be inked with the time for dinner to teach a young child to match the watch time with the time on an analog clock.
Origami would have been one of the many arts practiced in the internment camps.  With materials in short supply, any found paper could have been used: thin foil gum and candy wrappers fold especially well, responding with sharp creases. Origami would have been a welcome distraction for interned Japanese Americans of all ages.
After World War II, origami cranes became widely recognized as a symbol of peace and reconciliation through the story of Sadako Sasaki, the Hiroshima victim whose story is told in Sadako and the Thousand Paper Cranes by Eleanor Coerr (Uris Library).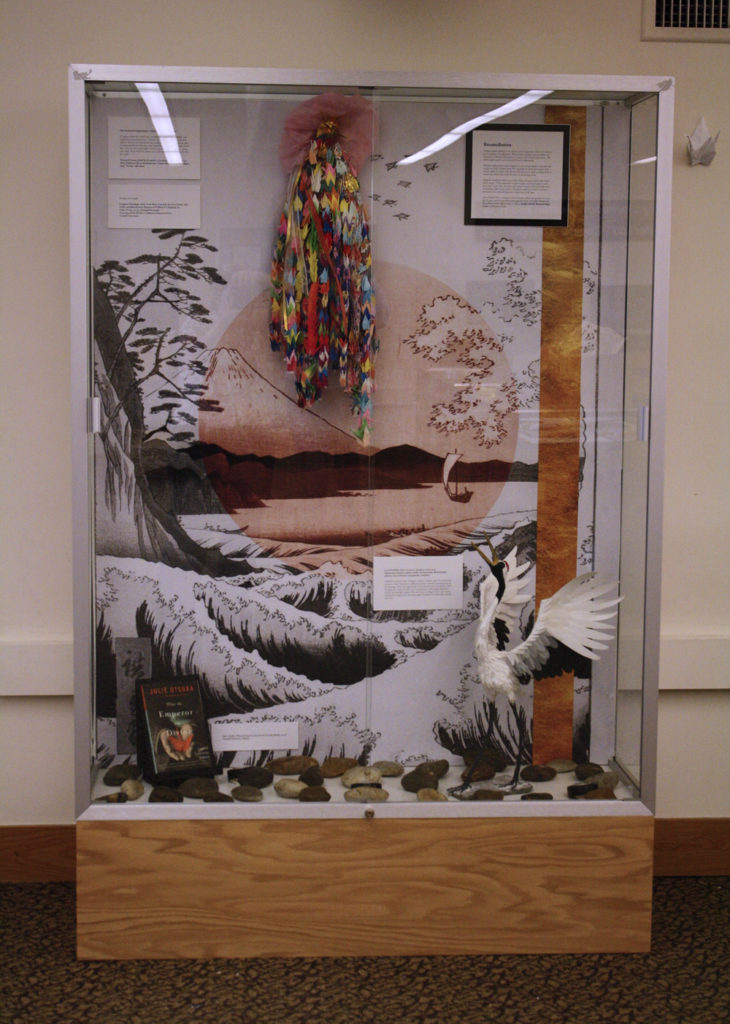 Items in this exhibition case:
One thousand origami paper cranes (千羽鶴 Senbazuru)
Thousand Cranes, folded by the mothers of students at Kodomo no Ie yochien (Children's House kindergarten), Ushiku, Ibaraki Prefecture, Japan, 1998. Private collection.
In Japan, cranes are auspicious, symbolizing good fortune, health and longevity, and perseverance.  Clusters of origami cranes are a familiar sight at shrines and memorial sites in Japan, and they are given as gifts to mark significant birthdays and important transitions. Tradition holds that with one thousand paper cranes, your wish will come true—your own wish, if you fold the cranes, or a collective wish for another, if they are a gift.
Carla DeMello. Red-crowned, or Japanese, Crane, 2013.
Aluminum armature, papier mâché, electrical tape, Bristol paper, polymer clay, velveteen, and gouache sculpture
DeMello's original crane sculpture inspired her to create a whole series of ornithological pieces. Each represents a different species, from the hummingbird to the flamingo. Here, she depicts the red-crowned crane, sometimes called the Japanese crane, the beloved Grus japonensis celebrated in Japanese culture and through origami. The artist pays homage to the 1,000 cranes tradition by using over a thousand paper "feathers" to clothe this remarkable bird.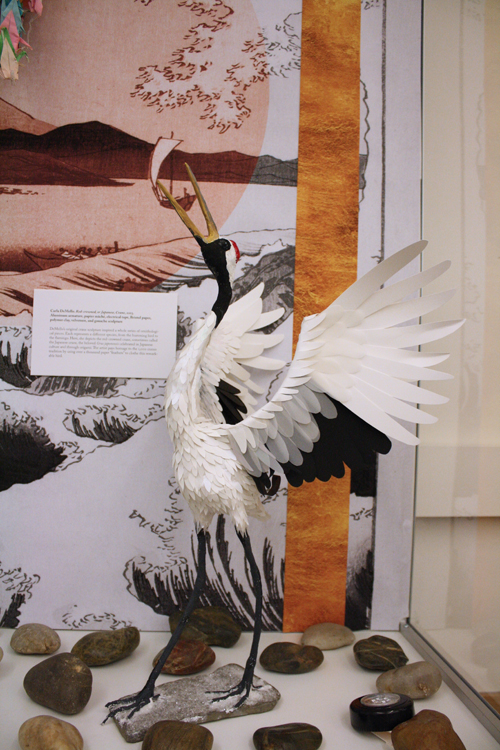 Other ornithological sculpture by Carla DeMello:
Backdrop:
Utagawa Hiroshige. Satta Great Wave: Fuji from the Sea of Satta, 1858. Color woodblock print. Bequest of William P. Chapman, Jr., Class of 1895. 56.055. Courtesy of the Herbert F. Johnson Museum of Art, Cornell University