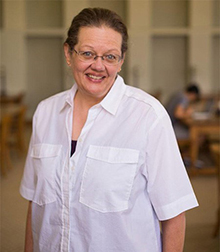 Bonna Boettcher
Director, Olin & Uris, Music, and Fine Arts Libraries
Cornell University
Email: bjb57@cornell.edu
Jill Ulbricht
Administrative Manager
Email: ju23@cornell.edu
Olin and Uris Libraries continue to be a hub of services on campus during the COVID-19 pandemic. Staff are working in the libraries to provide reservable study spaces, pull and prepare books for contactless pickup, scan chapters and article for electronic delivery, and much more. And staff are working from a variety of locations to provide reference services and research consultations, library instruction and workshops, at the same time selecting materials for the collections in order to ensure that the Cornell community is successful in teaching, research, and study.
Our mission remains supporting and enhancing the academic learning, teaching, and research activities of the College of Arts and Sciences, as well as all humanities and social sciences researchers and students across the University. To that end, we collaborate closely with the Africana, Fine Arts, and Music Libraries, as well as with the Asia Library and the Division of Rare and Manuscript Collections.
Our web site will serve as an online guide for you to learn more about us and our services. We also welcome suggestions for improvements and comments about Olin and Uris Libraries. If you would like to discuss any aspect of the Olin and Uris Libraries with me, please do not hesitate to contact me. I welcome your comments and suggestions.