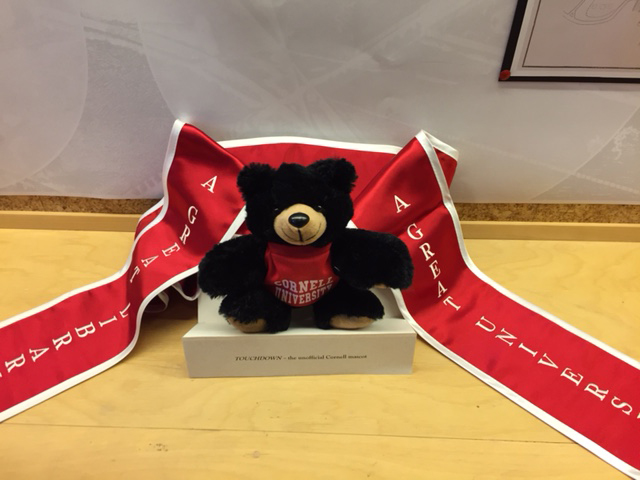 This famous member of Cornell University is not featured in any of the statistics with the students' birthplaces, but he definitely has its place in the University's past and present.
In 1915, the 50th anniversary of Cornell, the football team went undefeated for the first time in its history. Moreover, it was declared the number one team in the East, then the center of college football.  As John H. Foote, author of "Touchdown: The Story of the Cornell Bear" puts it, "some of the magic of the 1915 season was conjured up by a newcomer to the Big Red football program – a black bear that was acquired by the Cornell University Athletic Association" as a mascot with money by the revenue from season ticket sales. Over the first several weeks the cub kept a low profile and was not the center of attention. However, by Week 4 of the season he had become a fixture at the brand new Schoelkopf Field. He also had a name – Touchdown. During games, Touchdown was tethered to a stepladder so that he could climb on the home sideline. He also climbed a goalpost before each game, which quickly became a tradition for the fans. After two more live bear mascots, Touchdown II and Touchdown III, Cornell would not adopt a new mascot until 1939, when Touchdown IV, a female black bear cub and the last of the live bear mascots, was introduced.
Despite the popularity of the four bears, however, in 2011 the Student Assembly's request to have Touchdown recognized as the official mascot of Cornell, was denied and the University is still without an official mascot.