The exhibition was on display from May 2014 to January 2015 in the Olin Library Lower Level display case, Cornell University.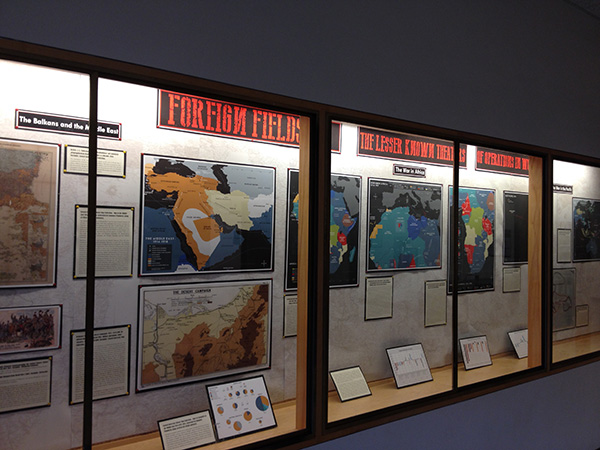 The history of the outbreak 100 years ago of World War I, the "Great War", and the collapse of the fragile balance among the European powers in the summer of 1914 is a grand and grim story of diplomatic failure and military destruction. It was arguably the main cause of World War II, probably the most destructive conflict in human civilization. Initially expected to be short, it lasted for four years and brought about more than 17 million deaths, 7 million of them civilian. The financial costs and long-lasting economic consequences were equally catastrophic.
World War I was a "European War," it was also the "Great" war. The biggest and bloodiest battles were fought in Western Europe. The battle of the Somme, for instance, where more than 1,000,000 people were killed or wounded, and the trench warfare have provided the most well-known, but also stereotypical images of the war. Yet it is important to remember that the conflict spread to Africa, where the German colonial empire was eventually destroyed, the Balkans and the Ottoman Middle East as well as Asia and the Pacific. The naval war was a relentless struggle over supplies of war materials and food.
The goal of this exhibit is to present these lesser known fronts and battlefields through a series of original maps and maps from the Olin Library map collection, which show not only the geospatial dimensions of the secondary fronts, but also the costs and casualties of the war outside of the main West European theaters of operation, and ultimately the really global scope of the war.